Celebrating Campti
The Campti Historic Museum is a space that allows people to get in touch with the rich history of Campti, LA, and the surrounding area. Founded in 2001 by Father Dan (who was at the time the priest for the historic Nativity of the Blessed Virgin Mary), the Campti Historic Museum celebrates the rich cultural heritage of the area. He envisioned a space that not only celebrated the history of the area but served as a multi-purpose community space. It maintains a collection of odds and ends that tell the local history of the town and the families that live there. It provides space for a small quilting group and allows local artisans to display and market their work. It has also hosted events of interest for the local community, such as classes for health and fitness, starting a small business, and outreach for the USDA.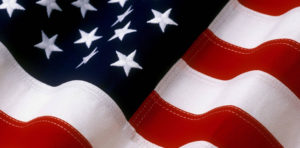 Honoring Our Heroes
Over the years, family members have shared with us, small keepsakes of their loved ones who served. Together they make a unique exhibit in their honor.
Pre-Civil War Catholic Church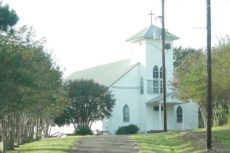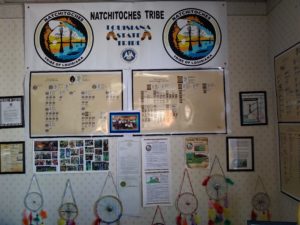 New Exhibit
We are excited to announce the newly developed exhibit celebrating the recognition of the Natchitoches Tribe of Louisiana. Included is the genealogy of several of the founding families. Did you know that former candidate for President of the United States, Ross Perot has roots that lead back to Campti?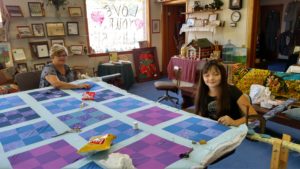 A Meeting Place
The museum serves as a meeting place for seniors with both quilting and painting classes Monday to Thursday, between 10 a.m. and 2 p.m.  Please contact us for more information at info@camptifieldofdreams.org
Our Featured Local Artist
  Campti Field of Dreams is proud to support local artists and artisans as they help create a vibrant, thriving community.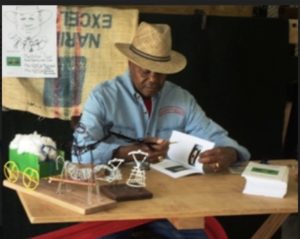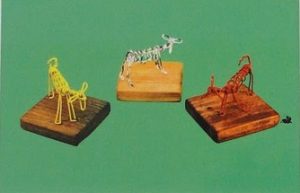 Elvin Shields, Folk Artist/Author at Campti Historic Museum
Mr. Shields will present a new historical static art display to honor the African Slave Woodsmen Loggers Camp.  Mr. Shields is a retired Professional Mechanical/Construction Engineer with 32 years experience with the private sector and the U.S. Army Corps of Engineers.  He is a former resident of Melrose and Oakland Plantations in Natchitoches Parish where he was born and grew up during the 1940s thru 1960s as a child of African-American sharecroppers.  In December 2012 he created the first Sharecroppers Home Museum in the U.S. National Park Service at the Cane River Creole National Historic Park, his childhood home.
 Mr. Shields will also demonstrate plantation toy making and speak about his life while growing up on Cane River plantations in Natchitoches Parish.  He will display his folk art for sale and sign his book with 100% of all proceeds going to the Campti Museum Foundation.  Mr. Shields is an advocate for the preservation of historic slave and sharecropper homes in the United States. You may preview his folk art at "www.plantationtoys.com."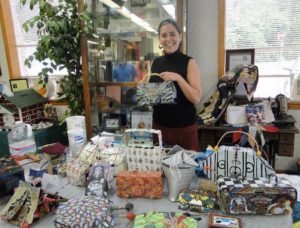 Jennifer Dove Cooper, Creator of Dovetail Purses, at Campti Historic Museum
Jennifer Dove Cooper, creator of Dovetail Purses, is a New Orleans native and graduate of the city's public schools. The daughter of a self-taught designer/chair caner and carpenter/preservationist, Cooper earned her MFA in Printmaking from California College of the Arts. Although she is well-versed in two-dimensional graphic arts, Dovetail Purses, established in 2011, is Cooper's first foray into the world of functional, three-dimensional, one-of- a-kind work.
Many Dovetail Purses utilize locally-sourced sticks as handles, while others sport wire or re-used plastic. Cooper constructs & paints Dovetail Purses by hand, noting with a laugh that "no two are alike, even if I try." Cooper's Dovetail Purses contain a materials list longer than that of gumbo and take considerably more hours to create, but Cooper likens Dovetail Purses to the soup of her native city in that both nourish. "It's a labor of love," says a smiling Cooper. Within the collection are two distinctly different lines: Dovetail Logo Purses hark back to Cooper's printmaking background with their bold, whimsical patterns, while Dovetail Issue Purses depict social injustices. Inspiration for Dovetail Purses started in Texas not long after Katrina relocated Cooper.
Cooper has returned to Louisiana and currently seeks media coverage and gallery representation for Dovetail Purses. Cooper's work has been shown and collected in Alexandria, Louisiana; Miami, Florida; and the San Francisco Bay Area, as well as in her birthplace, New Orleans. Dovetail Purses are available by contacting the artist via email at dovetailpurses@gmail.com or telephone (504)579-2338. Commissions are encouraged.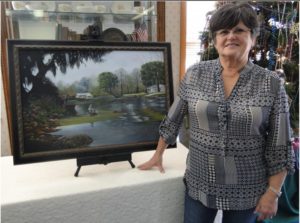 Genevieve Matthews Artist, at Campti Historic Museum
Genevieve Matthews was born in a little town called Bosco in southwest Louisiana where she grew up on a farm. Living on an old Osage Indian Trail she has picked cotton, planted corn for the animals and a vegetable garden with potatoes, okra, beans, greens and melons for the family. The "Little Cajun Girl" is an avid fisherwoman that quilts, tats, crochets and sews but she is not afraid to get on the bobcat or tractor!
Genevieve, a retired school bus driver, started painting with oil in the late 1970's and has never stopped. Her paintings express her love of nature and nostalgic memories of rural life. Her Cajun heritage is demonstrated in her art as well as her cooking. Recently married, a Cajun from down south swept her off her feet and brought her to Natchitoches Parish where she now resides in "The Promised Land" on Black Lake.  Telephone: (337) 371-7540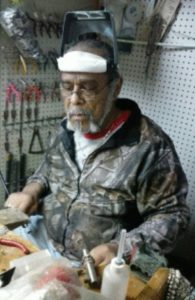 Leon Roger's Jewelry, at Campti Historic Museum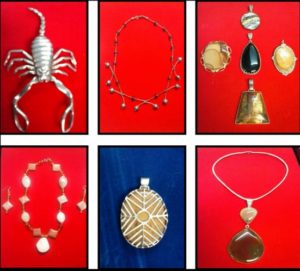 Leon Rogers, a product of Campti, Louisiana and an alumni ofthe Campti-Creston High School, Class of 1966, he loves to share his life journey to uncover his talent. A very spiritual man, he also talks about his walk with God through several occupations and how they were used to shape his future and hone his skills as a jeweler.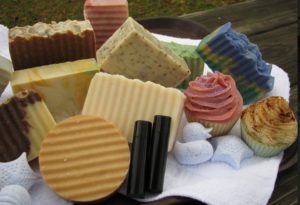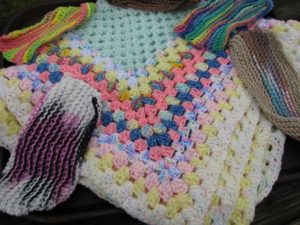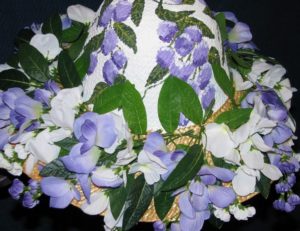 Stevenson's Farm Life, at Campti Historic Museum
Consisting of five females spanning three generations, the Stevenson family lives in Fairview Alpha, Louisiana, on the family farm. The farm has various fruit trees, citrus trees, muscadine and grape vines, and numerous varieties of flowers and plants, as well as livestock, including cows, goats, and  chickens. All the produce is grown organically. Next year the farm will expand to include beekeeping. The entire family are crafters, with individual interests ranging from soap making, needlework, crocheting, sewing, canning, sculpting, basket weaving, to photography.
Mary is a proficient gardener and grows a quantity of fresh produce each year, which she prepares some fresh and cans and preserves the rest. She is a talented cook and baker, making recipes from scratch in the time honored tradition. Even the animals benefits from the garden, they enjoy the overripe or damaged produce and even the vegetable plants after they are finished producing.
Ruth is an avid crochet and knitter, stitching everything from doilies and bedspreads to scarves, hats, and booties. Ruth likes to re-purpose everyday items. She is currently making earrings and other jewelry from soda can tabs, that she crochets around and adds beads and embellishments, including fishing lures.
Rachel makes handcrafted milk base soaps from all natural ingredients. She uses herbs from the garden and milk from the animals to craft the soaps. The soap business, called Southern Lane Soaps, has branched out to include natural skin care items, also. In addition, Rachel is a graduate from the Louisiana Technical College in Natchitoches, Louisiana, and creates gold and silver jewelry with precious and semi- precious stones, using the lost wax casting method. Rachel enjoys sewing and quilting, and she and Rhoda make handcrafted dolls.
Rhoda is a graduate from Northwestern State University. She loves to photograph nature with her specialty being floriculture. She has had numerous photos published in calendars. She also paints on re-purposed items, like farm implements, wood furniture, clay pots and old light bulbs. Rhoda crafts jewelry from glass, semi-precious stones, and her own hand crafted polymer clay beads; in addition to making clay sculptures.
Gabriel (Rachel's daughter) enjoys basket weaving, bead work, polymer clay (which with her having cerebral palsy, helps strengthen her hands). She is an avid reader, writer, and loves all forms of music.
Celebrating Campti
A History of Campti by Kate A. Keator
History remembers well the Lewis and Clark Expedition funded by Thomas Jefferson to explore the Louisiana Purchase in 1806.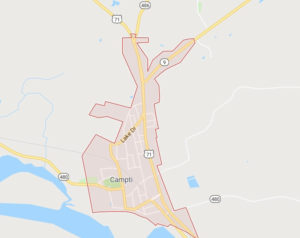 Few are aware that Jefferson funded two expeditions. The ill-fated Freeman and Custis Expedition (also known as the Red River Expedition) began in Campti, Louisiana. It was halted by a large force of Spanish Troops, in excess of 1,000, however, they were able to document the flora and fauna in the region and survey the river. Even more noteworthy were the interactions with the Caddo Indians. The Thomas Jefferson Encyclopedia noted, "These discussions laid the groundwork for
increasing American control over the American Indians of the Red River region."
In documenting "The Great Raft" possibly, the largest logjam in the country and expanding over 160 miles from Campti to Shreveport, Freeman and Custis provided the War Department with valuable information and in 1833 Captain Henry Miller Shreve was contracted to clear the logjam to open the Red River up for commerce. (Source: Louisiana: A Guide to the State)
Campti's brief entry into the Civil War was devastating. As the Union soldiers retreated down the Red River, they burned the entire town leaving only a house which served as the Civil War hospital and the Catholic Church up on the hill. However, Campti was resilient and rebuilt. On November 2, 1902, the "Village of Campti" officially came into being with the signing of a proclamation by Louisiana's Gov. William Heard.
Link to article Kate A Keator A History of Campti