Poster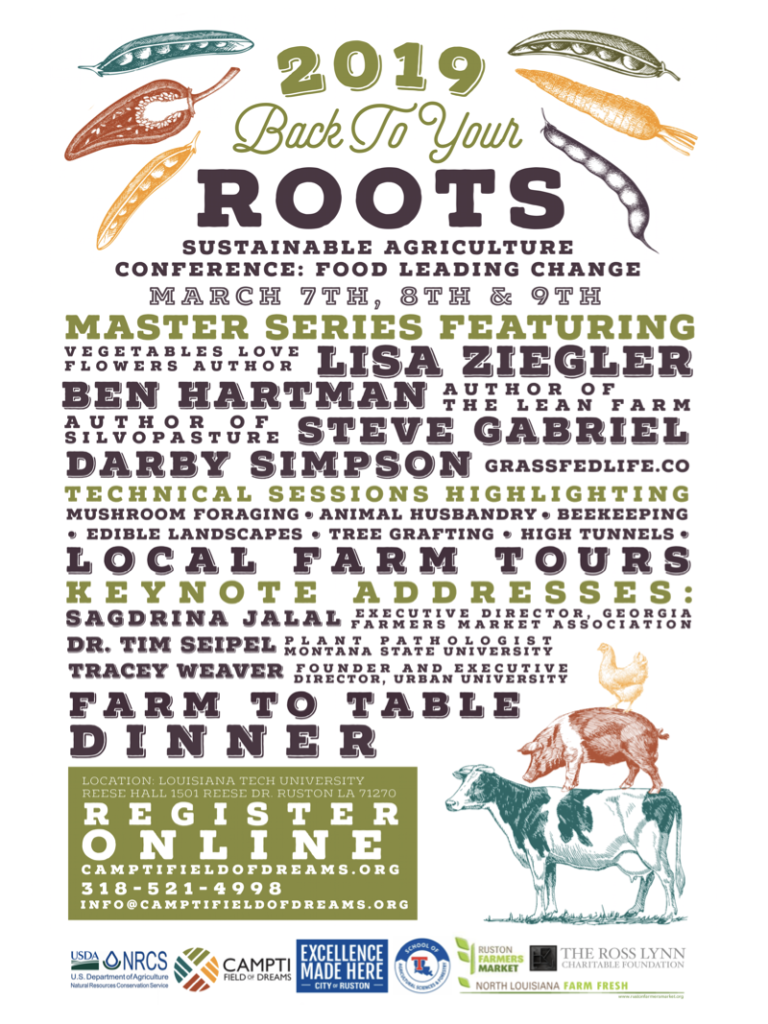 To download a document, click on the link below:
Holiday Inn Express & Suites
Conference Hotel: Back to Your Roots has reserved a block at Holiday Inn Express & Suites Ruston for $85/night. To make a reservation at the discounted conference rate, click on the BTYR2019 Conference Hotel Link below and check availability for the nights required. Must register before 2/27/2019 to get the discounted rate.
The Mission Behind The Conference
Back To Your Roots, 2019 is pleased to bring you nationally renown Masters in their fields along with other academics, farmers, ranchers, and value-added producers to share their knowledge as we work together to rebuild our local food system. Join us for a transformational event!
The goals of the conference are:
Advance sustainable agriculture as a tool for community revitalization in parishes facing persistent poverty by rebuilding the local food system and supporting other creative placemaking initiatives.
Educate the public on the environmental benefits of organic production and the mutually beneficial programs provided by USDA Natural Resources Conservation Service.
Inspire a new generation of farmers.
Last, but definitely not least, dispel the myth that you can't make money farming!
THE NEED: Rebuild Our Local Food System, The Backbone Of Rural Economies
THE FACTS: Persistent Poverty Is Stifling Our Rural Communities
THE ANSWER: Empower A New Generation Of Farmers With Models That Are Financially Lucrative, Replicable And Scalable To Infuse Innovation And Sustainable Entrepreneurship Into Our Rural Economies
Conference Registration
Pre-Conference North Louisiana Farm Tour $20 (Includes Lunch)
Full Conference General Admission $35
(Includes Welcome Reception, All Sessions, Lunch Friday & Saturday, and Farm-to-Table Dinner)
One-Day Technical Sessions Only $20 (Includes Lunch)
N.B.: We welcome young farmers! Young farmers, 12 and under may accompany a parent/guardian at no additional charge. Scholarships are available. Sponsorship opportunities are available. Reasonable accommodations will be made for persons with disabilities. For more information, call Donna at 318-521-4998.
Owner and Managing Partner, Gibson's Fresh Grocer Brian Warren opened his family-owned organic grocery store in 2015 and has grown his clientele and expanded to a new more prominent location in downtown Ruston. Gibson's Fresh…Read More

Chef, Owner, Grown and Grazed More than 20 years in the restaurant and hospitality industry have provided me with the skills, knowledge and experience required to succeed in a multitude…Read More

Co-Coordinator, SPROUT NOLA Marguerite Green is co-coordinator of SPROUT NOLA, a New Orleans non-profit focusing on empowering growers and farmers at all levels. SPROUT NOLA's work includes a weekly farmers'…Read More

Livestock Farmer and Blogger/Podcaster, Grassfed Life Living on his family's seventh generation farm Darby began his own farming enterprise in 2007 after reading "Pastured Poultry Profits" by Joel Salatin. Over…Read More

Farmer and Owner, Local Cooling Farms and Laughing Buddha Nursery As a philosophy student at the University of New Orleans, Grant was intrigued by applied philosophical models and "wisdom literature,"…Read More

Agroforestry Extension Specialist and Author Steve Gabriel is an ecologist, forest farmer, and educator living in the Finger Lakes Region of New York State. Throughout his career, Steve has taught…Read More

Executive Director, Georgia Farmers Market Association, and Chief Operations Officer, Taproot Consulting Sagdrina Jalal is sought after trainer, speaker, and facilitator on food, social justice, and community development topics. She…Read More

Tim Seipel received his Master's degree at Montana State and his Ph.D. from ETH Zurich (Swiss Institute of Technology). He is an assistant research professor at Montana State University focused…Read More

Author and Farmer Ben Hartman grew up on a corn and soybean farm in Indiana and graduated college with degrees in English and philosophy. Ben and his wife, Rachel Hershberger,…Read More

Cut-flower Farmers and Author Lisa Mason Ziegler is a cut-flower farmer, author, and speaker on organic cut-flower gardening. Lisa has been farming since 1998 in southeastern Virginia on the Ziegler…Read More

urban university Founder and Executive Director In 1998, Tracey Weaver launched urban university (uu) to "improve the socioeconomic status of impoverished individuals." uu's first collaboration and launching project, was the…Read More

Ernestine "Tootie " Morrison is a Shreveport louisiana native, born in Frierson louisiana, she is the youngest of six children. Tootie is a wife and mother of two sons and…Read More

Owner/Operator of Michael's Mayhaws, CEO Louisiana Mayhaw Market Michael graduated from Northeast Louisiana University with a BS in Pre-Law and a minor in Business. He is currently employed at CenturyLink…Read More

Farmer Conrad Cable is from Marion, Louisiana. Since he was 9 years old, he and his family have grown food together. With his brother, Conrad co-owns and operates Current Farms,…Read More

State Agronomist, USDA Natural Resources Conservation Service Chris Coreil received his B.S. degree in Agribusiness from the University of Southwestern Louisiana in 1995. He received an M.S. degree in Agronomy from…Read More

Registered Dietitian Valerie Costanza graduated with a degree in Nutrition and Dietetics from LA Tech University. After successfully completing requirements to become a registered dietitian, she worked as a cardiac…Read More

Co-founder, SPROUT NOLA Emily Mickley-Doyle earned her B.A. in Sociology from Loyola University New Orleans in 2008. After working in the disabilities field, HIV, and youth fields, she decided that…Read More

Farmer and Owner, Local Cooling Farms and Laughing Buddha Nursery Kate grew up in a rural area south of Madison, Wisconsin, surrounded by conventional corn and soy fields. Her parents…Read More

Yoga Instructor, Speech & Creative Writing Teacher Elizabeth Ernst Griffon, from Monroe, LA, is the daughter of an English teacher and granddaughter of a veterinarian, so education and community have…Read More

Executive Director, Campti Field of Dreams Donna Isaacs serves as executive director of Campti Field of Dreams where she implements triple-bottom-line principles and practices to foster sustainable growth and community…Read More

Associate Professor, Louisiana Tech University Paul Jackson received a B.S. in Biology from Northwestern State University, an M.S. in Environmental Biology from Louisiana Tech University, and Ph.D. in Horticulture from…Read More

Owners, Jennings Apiaries Aaron Jennings has been keeping bees since 2012. He has kept bees for a living for the past three years and currently runs around 150 colonies a…Read More

Farmer and Co-Owner, Holly Creek Farm Melissa Martin farms in northeast Louisiana with her husband, Thad, and children, on Holly Creek Farm. They began with a goal of self-sufficiency and…Read More

Chef-Owner, Mosquito Supper Club Melissa Martin grew up on Bayou Petite Caillou in Chauvin, Louisiana, and has lived in New Orleans proper for 22 years. After graduating from Loyola University…Read More

President, North Louisiana Farm Fresh Jean McWeeney is president of North Louisiana Farm Fresh, a 501(c)(3) nonprofit that seeks to connect North Louisiana agricultural producers to consumers, and to promote…Read More

Owner-chef, for His temple family foods Dana Milford is the owner and chef at for His temple family foods in West Monroe. This is a unique establishment serving gluten-free, dairy-free,…Read More

Co-founder, Pastorek Habitats Marc is a horticulturist, garden designer and co-founder of Pastorek Habitats, a landscape design, and construction firm, specializing in natural landscaping (wildscaping). Marc has been gardening with…Read More

Retired Project Specialist, Rapides Soil and Water Conservation District Dexter Sapp retired from the USDA Natural Resources Conservation Service (NRCS) on January 3, 2019, after a 40-year career with the…Read More

Assistant Professor, Louisiana Tech University Laura Sims is an Assistant Professor of Forest Health at Louisiana Tech University. She has been working with fungi for over a decade. Her area…Read More

Livestock Farmer and Owner, Smith Family Farms Craig Smith initiated his agricultural pursuits in high school with an entrepreneurial class project: making money with meat goats. He put his ideas…Read More

Mayor, City of Ruston Ronny Walker has been deeply involved in the economic growth and civic well-being of Ruston and Lincoln Parish for almost his entire adult life. Ronny earned…Read More

Jane is the Executive Director of The Ross Lynn Charitable Foundation.  Service to others and the support of community development are two guiding principles of her life. Jane is a…Read More

Farmers Market Consultant and Researcher Darlene Wolnik is Senior Advisor at Farmers Market Coalition and Owner at Helping Public Markets Grow. Darlene offers research, training, and analysis for public market…Read More

North Louisiana Farm Tour, Thursday, March 7, 8:30 am – 4:00 pm We are Thad and Melissa Martin. We left the city during the summer of 2014 to live on…Read More