Poster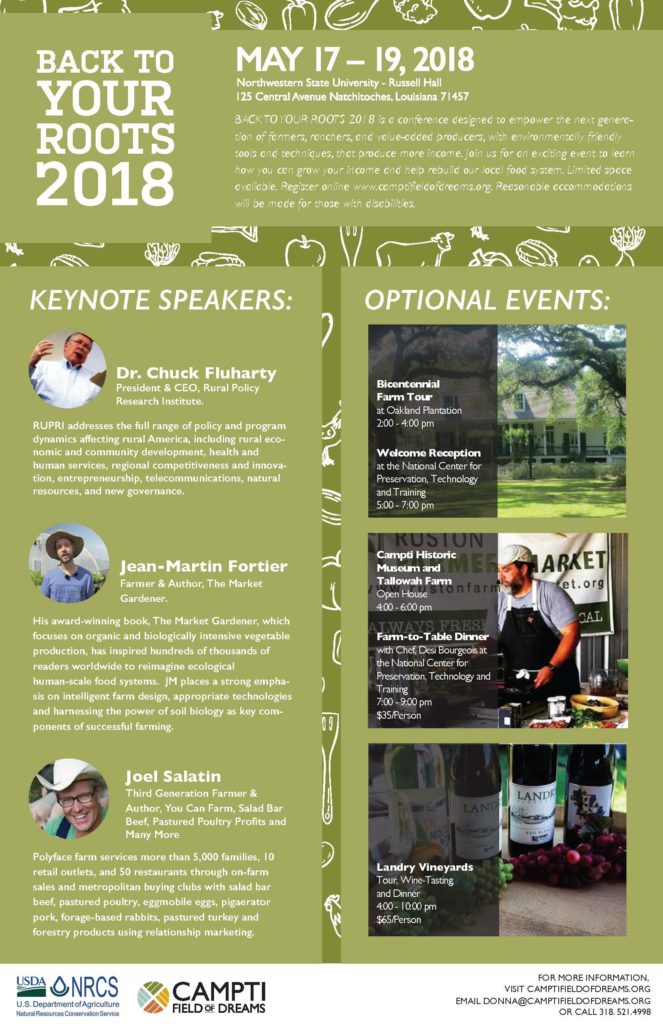 BACK TO YOUR ROOTS 2018
A Sustainable Agriculture Masters Series
Growing Food, Farmers & the Fabric of Rural Communities
May 17 – 19, 2018
Northwestern State University, Russell Hall
125 Central Avenue, Natchitoches, Louisiana 71457
CONFERENCE OVERVIEW
Back To Your Roots, 2018 is pleased to bring you three internationally renown Masters in their fields along with other academics, farmers, ranchers and value-added producers who will share their expertise with you. Join us for a transformational event!
The goals of the conference are:
Advance sustainable agriculture as a tool for community revitalization in parishes facing persistent poverty by rebuilding the local food system and supporting other creative placemaking initiatives.
Educate the public on the environmental benefits of organic production and the mutually beneficial programs provided by USDA Natural Resources Conservation Service.
Inspire a new generation of farmers.
Last, but definitely not least, dispel the myth that you can't make money farming!
THE NEED: Rebuild Our Local Food System, The Backbone Of Rural Economies
THE FACTS: Persistent Poverty Is Stifling Our Rural Communities
THE ANSWER: Empower A New Generation Of Farmers With Models That Are Financially Lucrative, Replicable And Scalable To Infuse Innovation And Sustainable Entrepreneurship Into Our Rural Economies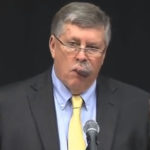 Dr. Chuck Fluharty,
President & CEO, Rural Policy Research Institute Thinking "Bigger" About Smaller Places: Capturing the "Adjacent Possible" Innovations "Since our nation's founding, rural areas and rural people have provided the food, fuel, and fiber for all our citizens. Today, as never before, the health, welfare, and future viability of urban America are directly linked to the wellbeing of rural America."
Bio - Charles-Fluharty
Event Date
Thursday, May 17 2018 
Register Now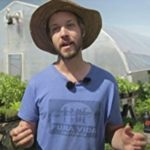 Jean-Martin Fortier,
Farmer & Author, The Market Gardener Making a Good Living with Profitable Market Gardening on 1.5 Acres "We need to replace mass production with production by the masses."
BIO-
THE-MARKET-GARDENER-JM-Fortier
Event Date Friday, May 18 2018

 

  Register Now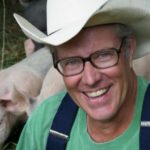 Joel Salatin,
Third Generation Farmer & Author: You Can Farm, Salad Bar Beef, Pastured Poultry Profits and Many More Polyface Masterclass: Sustainable Farm Enterprises "Know you food, know your farmers, and know your kitchen." "You can't have a healthy civilization without healthy soil. You can't have junk food and have healthy people."
Bio
Joel-Salatin
Event Date
Saturday May 19, 2018
Register Now
Back To Your Roots Overview, Schedule and Flyer